Huntington Ingalls Industries to Present at Bernstein's Strategic Decisions Conference
/EIN News/ -- NEWPORT NEWS, Va., May 22, 2019 (GLOBE NEWSWIRE) -- Huntington Ingalls Industries (NYSE:HII) will present at Bernstein's 35th annual Strategic Decisions Conference on May 29 in New York. The presentation by HII President and Chief Executive Officer Mike Petters and Christopher D. Kastner, executive vice president, business management, and chief financial officer, will begin at 3:30 p.m. Eastern time and will be webcast on www.huntingtoningalls.com.

Huntington Ingalls Industries is America's largest military shipbuilding company and a provider of professional services to partners in government and industry. For more than a century, HII's Newport News and Ingalls shipbuilding divisions in Virginia and Mississippi have built more ships in more ship classes than any other U.S. naval shipbuilder. HII's Technical Solutions division provides a wide range of professional services through its Fleet Support, Mission Driven Innovative Solutions, Nuclear & Environmental, and Oil & Gas groups. Headquartered in Newport News, Virginia, HII employs more than 40,000 people operating both domestically and internationally. For more information, visit:
Contacts:
Jerri Fuller Dickseski (Media)
jerri.dickseski@hii-co.com
757-380-2341
Dwayne Blake (Investors)
dwayne.blake@hii-co.com
757-380-2104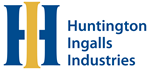 Powered by


EIN Presswire does not exercise editorial control over third-party content provided, uploaded, published, or distributed by users of EIN Presswire. We are a distributor, not a publisher, of 3rd party content. Such content may contain the views, opinions, statements, offers, and other material of the respective users, suppliers, participants, or authors.
Submit your press release